---
WOODWORM IN FURNITURE TREATMENT KIT - woodworm treatment for furniture using wax, spray, injection and brushing gel. Call our experts for free advice on furniture beetle - 01626 872886 .
Boron Ultra Gel is a clear, odourless, water based treatment for treating woodworm furniture, together with other woodworm treatment products included in the Kit (see details below). We tell you how to kill woodworm in furniture safely.
Click here to view the product, check the prices or Order from our Furniture Beetle Treatment Shop
---
1. Furniture Woodworm Treatment Kit - complete treatment - woodworm in furniture
We have created a Furniture Treatment Kit to deal with the varied woodworm problems to be found in wooden furniture.
Firstly, no type of woodworm treatment will penetrate painted, varnished, stained or waxed surfaces, so in many cases you cannot usefully apply woodworm treatments of any kind to the outer, finished parts of pieces of wooden furniture.
Secondly, the inside and rear surfaces of furniture are often bare, so you can apply the Boron Gel, with a brush. Care must be taken not to leave a sticky residue, so after allowing 24 hours for absorption you should wipe off all excess gel with a well rinsed damp cloth.
Thirdly, the small holes themselves (the 'flight' or 'exit' holes) can be directly treated in three different ways. Either inject them using the Spray, or apply drops of Gel using the syringe supplied in the Kit. Wipe off any excess and then block the holes using the Classic Wax, which contains an insecticide.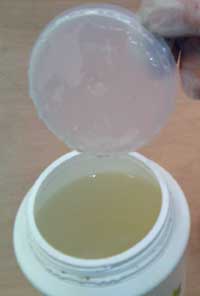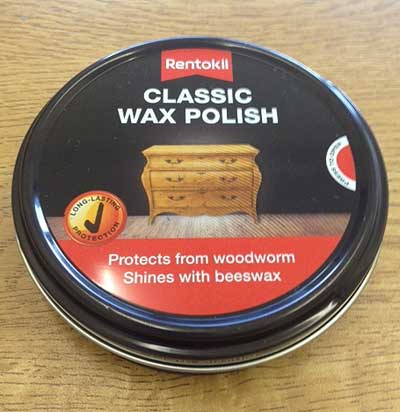 Inject Fluid, Brush or Inject Boron Gel, Block Holes with Classic Wax
Complete Furniture Treatment Kit Contains -
Spray, Boron Gel, Wax Polish, gloves, plastic syringe.
Click to see prices and buy - Furniture Treatment Kit Complete
---
2. Boron Ultra Gel - furniture surface treatment and to inject into holes - no smell, no vapour
For unpainted, unvarnished, bare wood, by brush or using the syringe provided with the Kit
A unique Boron based Gel in glycol, designed to treat timber by brush or by injection. It avoids the hazard problems of many liquid preservatives by using only glycol as a carrier. By brush, apply as one thin coat, allowed to soak in and then wipe to remove any excess with a wet cloth. If injected, apply to each insect hole to refusal and wipe off all excess with a damp cloth or paper.
Option - this product can be purchased as part of the Furniture Treatment Kit
Click to see prices and buy - Boron Ultra Gel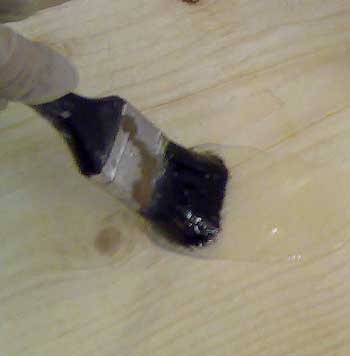 ---
3. Furniture Woodworm hole Injection using Mini Brass Sprayer with pointed Flight Hole Nozzle
For painted, varnished or stained wood where a surface treatment of Gel will not penetrate.
A special polished brass Mini Sprayer has been modified to take a Flight Hole Nozzle, with a fine pointed tip. This allows you to inject individual holes with a drop of Boron Ultra liquid, a low hazard, zero odour, zero vapour treatment. Wipe off all excess fluid with a damp cloth or paper, to avoid affecting polished surfaces.
Option - this product can be purchased with or without Boron Ultra 12 liquid. The miniature Sprayer is not part of the standard Furniture Treatment Kit, being designed for a liquid, which is not contained in the Kit.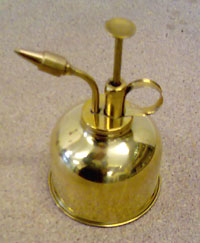 Pump Action Injection Can
Click to see prices and buy - Brass Injection & Spraying Pump
Click to see prices and buy - 1 litre of Boron Ultra 12 in water at 5% to use in the Miniature Sprayer
---
4. Spray aerosol can - to spray into flight holes - not Boron Based
For all bare surface areas.
A pressurised 300cc can of Permethrin insecticide, for insect flight holes. Solvent based. Wipe off all excess with a dry cloth or paper. Has an odour and a vapour
Woodworm hole spray can - 300cc
Option - this product can be purchased as part of the Furniture Treatment Kit
Click to see prices and buy - Spray Can
---
5. Supreme Furniture Wax - for finishing - does not contain silicone
For waxing all areas and to block off old holes
An 400cc tin of special wax. Ideal for blocking off old flight holes, where eggs may otherwise be laid.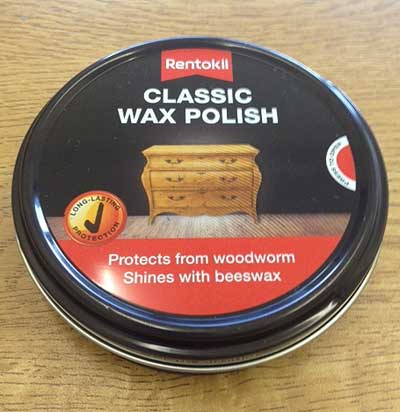 Classic Wax with insecticide - for blocking holes
Option - this product can be purchased as part of the Furniture Treatment Kit
Click to see prices and buy - Classic Wax
---
Woodworm Treatment | Death Watch Beetle Treatment | House Longhorn Beetle Treatment
Woodworm Sprayers and Accessories | FAQs | Boron History | Boron Treatment Range | Shop
References | Privacy Policy | Returns Policy | Technical & Safety | Contact | Links | Testimonials
---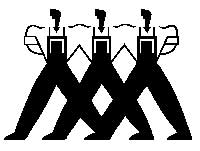 Property Repair Systems,
T: 01626 872886
E: help@propertyrepairsystems.co.uk
---
Site written by: David Moore
David Moore, B.A. (Hons.), C.T.I.S., C.R.D.S. Technical Author
Google+
---